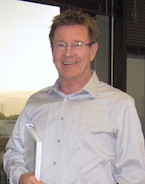 Jim Everett has over twenty five years experience in the US and internationally in corporate Training and Development, including Management Development and Reseller Training. He has held senior manager positions Sales and Reseller Training for Apple Australia and the US, and his international training experience includes developing and delivering training throughout the Asia Pacific region. Several years back, he took time off from Think180 to establish and manage Apple's User Training group.
He has over eleven years in the computing industry, including three years with ICL, ten years with Apple in Australia and USA, where he created strategies for Product and Sales Training for US resellers, as well as managing a national training partner program for Apple. He has engaged and managed consultants extensively, and has worked as a Senior Consultant with Touche Ross. His formal studies include an honors level BA degree, specializing in management, communications, motivation, and work performance.
Jim has worked in and consulted to a range of industries including high technology, manufacturing, oil & gas, food processing, transportation, consumer photo marketing, federal government and professional services. He has researched and presented proposals for an informational TV and web content around consumer digital photography to senior decision-makers in the cable television industry.
Recently, Jim has been producing web media content (video and audio) for consumer photography, working closely with the Photo Marketing Association International. He has produced podcasts, including Think180's vendor management series, and has presented in TV guest segments on G4 Tech TV Canada.
His experience, training and abilities enable him to plan, facilitate, create and communicate credibly. Jim's approach is flexible and easy to work with, combining practical strategies with humor and creativity.